Name: Ayumi Itami ((approved))
Birth year: 07/19/3232
Age: 24
Appearance:
She has fiery red eyes but some how they're almost cool. she holds her hair back in a pony tail, while two strands of it go to the sides of her face. Her bust is of medium size, standing about 3' 7". She has the trademark black stripe of fur that raccoons have that goes around the head and across the eyes. She also has a birthmark on her right shoulder that looks like some sort of spiral with what also appears to be a few drops coming off of it.
She wears a gray tank top that leaves room for midriff and some jeans that go all the way down to her feet, she also wears cloth around her fists which act as a way of softening the recoil of her punches. She also wears sandals. The band that holds her hair up into a pony tail appears to be made out of some kind of plant.
While she travels she might wear a small straw coat, which appears to only cover her back until it reaches her hips, which the hat would cover her face from the sun. She also would carry a pack with various types of food, two stones to be able to start a fire, and some bottles of water.
Personality:
Ayumi is a kind person in most respects. she is also some what righteous, but not so much that it makes her look corrupt. She shows some respect for criminals, but hates their guts. She is very curious around machines and other technology, and might decide to mess with it, which then very well could ruin it.
When Ayumi starts fighting someone, its no more miss nice girl, she drops all formalities and tries to get the fight done and out of the way as quick as possible. If she were ever to train someone, she wouldn't be able to have any open sparring with them because of this, the person that spars with her would have to be atleast at and equal level of skill as her to be able to have a chance. While she fights, if its a serious fight, anything goes, if its not that important to her, she'll only use what moves she knows. She tries to avoid speaking while fighting, as taunts aren't exactly her strong side.
When Ayumi first meets someone, she does not trust them very easily, as she is very wary from the monks coming up and asking random people about her and these random people that she runs into, not knowing any better, usually tell them where she was last seen by them. Even if Ayumi considers a person a foe, so long as their not in active combat, she'll try to speak to them coolly and with kindness, if possible. Ayumi, once you get past that, is a very good friend to have around if you can keep her on your side. She would almost instantly defriend someone if she found out about some crime they committed unless they have a very very good reason for it. Because of how Ayumi usually responds to certain things, she can be very hard to make into a friend, but very easy to turn into an enemy.
Ayumi likes to travel, and see new things. one of her other hates are liars. she also fears having a great huge mob of people starring at her for a good deal of time, as well as fears being in the dark while alone.
She is very level headed, and is not very easily angered, if others start yelling at her or anything, she just smiles at them. She believes in a higher power, though she never refers to it as god or any other name that has the same meaning. She believes not that the being is there to help them in their time turmoil, but to watch and test them, for the time when the darkness should rise, which this somehow makes her a more positive person over all.
Because of her beliefs, she very much disapproves of any form of crime or anything that goes against what she believes to be right. She would turn in her own family or her best friend if some how it was wrong in her mind, she'd even possibly go up against a governmental power if she believed what it was doing to be wrong. When it comes to morals, for her its "my way or the highway" half the time.
Ayumi is very curious when it comes to what most would consider to be modern technology, as she has never really seen it before, because of this, she might try to mess with it, which could very well end in the device being destroyed in the process.
Backstory:
Originally, she had come from a temple where they taught martial arts, her father was the master of the temple. The temple did not let those who had trained there leave as there were certain things there that were not to be told or shown to the outside world. A lot of the temple's Martial Art was mostly centered around taking advantage of the pressure points on a living being, but there are a few normal moves which just involve trying to break the bones by bashing it with a series of kicks and punches.
Ayumi's father is a cold, strong, and uncaring person. Any meals Ayumi shared with him would usually be done in dead silence, and he would give a disapproving frown if she tried to talk. When he trained any of the disciples, if they didn't jump to the task of whatever he told them to do, he would break one of their limbs as a warning for what could happen next time, and the next day expect them to do all the work and training at the same rate as someone who still had all their limbs intact. Ayumi's father is actually very hard on Ayumi, as if Ayumi was even caught around anyone who broke a few of the rules, and were due to recieve punishment, Ayumi's father would make sure she got an even worse punishment than the others.
At the age of seventeen, Ayumi had an argument with her father about constraining people to the temple, having started to believe it wasn't right to kept people in against their will. Her father, being the very strict and Iron Hearted person that he was, became very displeased with her and treated her like the arrogant teenager he saw Ayumi as, backhanded her, and sent her to her room with guards to make sure she didn't try anything radical for the rest of the night. Ayumi, being angry from the incident, opened the window and climbed down from the second story where her room was at, clinging to the bricks on the walls. Ayumi then snuck around the village to where the gate was, knocked out the guards they had, and went out the front doors to the temple's grounds. No one noticed she had left until the sun had risen up and two very pain stricken guards came to and Ayumi's father had entered her room to see that she had left, the window still open. There was an uproar throughout the temple, soon Ayumi's father had called a meeting to figure out who exactly to send. by that time, Ayumi had already wandered out of the mountainside where the temple had been located, wary from climbing down the rocky slopes to the fields below.
The meeting ended after but ten minutes, and her father had begun to send out the most trustworthy members from the temple to chase after her in an attempt to make sure the secrets were kept. Ayumi, on the other hand, had just begun to wander the land scape, having no intention of going back to where her home once was, not knowing that she now had pursuers.
Correctly speaking, Ayumi really did not know what secret was really hidden in the temple, because as she traveled she came across several villages with many similar, if not the same, moves of the martial art taught at the temple, though they were mostly used to help with healing in some perspective, in an effort to use it to numb the specific limb or part to prevent serious pain during either the use of a needle or an operation. She found that the moves, used by the weak trembling hands of a doctor, didn't have the same effect as someone who had trained for combat all their life as she still heard the patients cry out a little when the doctor operated, but she began to wonder what secret was really hidden in the temple, but at the same time, not caring to go back. She continued to wander the lands of Mobius.
Eventually, she ran into a few of the disciples sent after her. She fought and managed to kill one of the monks and knock down the other. Ayumi found out that her father had sent out an order to get her back to the temple, whether she was alive or not when she came back, did not matter. This increased Ayumi's fury at her father, she executed the monk so he would not spread word of their encounter to any others after her, and continued her life of wandering, occasionally running into those sent after her, and other times coming into towns, cities and villages.
Powers:
Knowledge of Pressure Points - on a person's body are several points that one can hit, Ayumi's martial art taught of particular ones that can cause paralysis of either the arms, hands, legs, lungs, or heart... Ayumi knows almost all of them except the one for the heart.
Skills:
Stealth - Ayumi can be dead silent when she wants to be.
Martial Arts - Ayumi knows a lot about hand to hand combat and can usually figure out how to beat someone in close quarters.
climbing - The raccoon can scale certain buildings if she can find good holds as well as deal with going up the sides of mountains if necessary.
Weapons:
her fists
can use a quarterstaff or similar weapons, but does not currently have one.
Technology:
lacks even basic knowledge of modern technology.
Relationships:
none to this point.



Posts

: 3


Join date

: 2010-01-18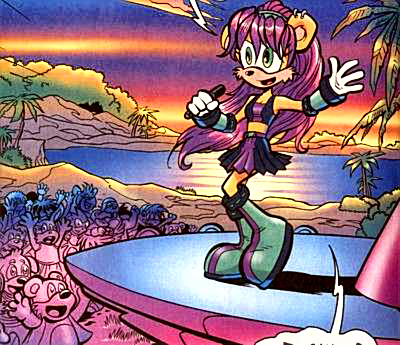 Name: Mina Mongoose ((wait before looking over))
Age: 15 (assumed)
Appearance:
Mina has yellow fur and long, wavy lilac hair. Her eyes are green (though they've occasionally been miscoloured blue). Created as a potential love interest for Sonic, she was designed by artist Patrick Spaziante specifically with a more SegaSonic-style in mind. In her basic design, Mina wears a simple black tank top, brown shots, a black hairband, and large green/teal boots and gauntlets/gloves. Her ears have several piercings and are usually adorned with silver hoops.
For concert performances, she often wears a variation of her usual outfit; while she retains the general idea of the boots and gauntlets, the boots sport a purple stripe. She wears a black and purple tank top with matching pants/leggings; the latter were later replaced by a pleated skirt. She's occasionally been depicted in a more formal outfit designed by artist Jeff Axer; a red qipao patterned with a green dragon, long black gloves, ornamental hair pins and ornate gold jewelry, including gold hoop earrings with green tassels. On a single cover Mina was depicted in a typical Japanese sailor-style school uniform of white and purple with a pale teal backpack and white and pink sneakers. She was also shown wearing simple pale yellow pyjamas. Artist Dawn Best added a green star to Mina's hairband. An unused redesign, also by Jeff Axer, featured capris, hi-top sneakers, puppy-themed socks and an artfully-torn sweatshirt with "Sonic" printed on the front.
Personality:
Initially, Mina was depicted as shy and lacking in confidence. She was often somewhat depressed, as she had recently lost her mother to roboticization, and at a time considered letting herself be captured and roboticized so as to at least be with her. Eventually as she settled in Knothole, she became more cheerful, making friends and helping take care of a trio of orphans, and when her mother's free will was restored, Mina's mood improved greatly. As she developed a crush on Sonic, she remained shy but began to expand her abilities and become a bit more outgoing, hoping only to impress him, but eventually realized her methods were misguided. When it comes to love, she's passionate but somewhat conflicted and oblivious. She was unaware of the relationship between Sonic and Sally and, upon realizing their feelings for each other, suffered tremendous heartbreak. Deep down Mina is rather brave, having repeatedly put herself in danger for the sake of others, though she doesn't always handle pressure well. Despite her emotional hardships, Mina's confidence grew as her musical ability became apparent, and she developed into a happy, highly energetic individual with a heroic heart, using her singing talents to inspire hope, confidence and improved morale to the masses.
Backstory:
Orphan-
Mina was discovered outside of Robotropolis, hopeless after her mother was captured and roboticized. During her time in the city, she met the ancient villain Mammoth Mogul, who used his Chaos powers and Ixis Magicks to unlock her super speed while erasing her memory of their encounter, planting a post-hypnotic suggestion as a precaution for the future and leaving her alone. However, Sonic spoke with and rescued her, bringing her to Knothole. As Sonic's parents were also roboticized, Mina felt he was someone she could relate to, but still continued to feel lonely and considered allowing herself to be roboticized to be with her mother.
Chasing Sonic-
Upon observing Sonic's heroics and the way he interacted with his friends and family, Mina developed a crush on the hedgehog. They became close friends, though some, like Bunnie, didn't seem to appreciate Mina's advances on Sonic. When Mina discovered she had enhanced speed, which she attributed to her being a mongoose (a naturally quick creature), she and Sonic spent even more time together as he tried to improve her control. Mina once attempted to kiss Sonic in thanks and was surprised by his shock and confusion.
Deciding she'd taken the wrong approach, she asked her mother for advice, which through a slight misunderstanding resulted in her trying to catch Sonic's eye by donning a fancy outfit. While impressed, he soon left afterwards on a mission, frustrating the mongoose. Eventually she decided to become a Freedom Fighter herself, so as to spend more time with Sonic. While her mother was wary of this reasoning, Mina began training in various aspects with the core Freedom Fighters. However, when a giant robot sent by Eggman attacked, Mina attempted to save Sasha, Rory and Snaggle, only to be overwhelmed by panic; she froze in place. Having only been saved by Rotor's timely disabling of the machine, Mina realised that her priorities had been skewed; she had not joined the Freedom Fighters with the intent of defending others, only to impress Sonic.
Despite this, she still occasionally aids the team in missions, and with her priorities in order has been more efficient. When Sally was kidnapped by Nack the Weasel, Mina followed Sonic in an attempt to help out, and the two entered the weasel's hideout separately. Sonic found Sally first, and the two kissed. Mina walked in at that moment and realised that Sonic loved Sally. Extremely heartbroken, she turned away, only to notice Nack aiming at Sally with a gun. Using her speed, Mina rushed in to intercept the bullet, thinking to save Sally for Sonic's sake. As she collapsed in Sonic's arms, she told him she loved him. When she later awoke in hospital, Sally asked if she'd be okay. Tearfully thinking of her heartbreak, Mina replied that she'd get over it.
Songoose-
Mina displayed singing talent early on, once heard by Sonic through an open window. The two once decided to jam together, with Sonic playing guitar, and amassed quite a crowd. Eventually she formed a band, working with the Knothole Knuts, and her popularity soared. She began to throw concerts to support the troops.
Powers:
Super Speed -
Excellent Singing Voice -
Skills:
musically talented
Weapons:
her hands
Technology:
nothing notable at the moment.
Relationships:
Isabella Mongoose - Mina's mother, Isabella was roboticized early on and then later the process was reversed, she fully supports Mina becoming a singer.
Sonic the Hedgehog - Mina had a crush on Sonic, and still does love Sonic, but then he suddenly disappeared, now think that he might be dead.
Sally Acorn - Mina is good friends with the princess, and currently does not know that Sonic has feelings for Sally.
Miles "Tails" Prower - Mina is a friend of tails.



Posts

: 3


Join date

: 2010-01-18




Similar topics
---
Permissions in this forum:
You
cannot
reply to topics in this forum